Swapnil Nevgi Fine Art
I am an Australian artist living in Brisbane, Australia. I was born in the beautiful coastal town of Goa, India. Creativity and art have been my passion since childhood and to enhance that I moved to Brisbane in 2001 for higher education. I have qualification in advertising, design and IT and worked in the corporate world for 10+ years. I gave up full time employment in 2017 to focus on my passion for art. Now I operate my own business in design, art and photography.
Nature intrigues me and I really enjoy capturing wildlife and landscapes on canvas. I am passionate about nature conservation and aim to promote the significance and beauty of wildlife and nature through my art. Realism is my preferred style of art, however I also enjoy working with other styles of painting from time to time.
I spend a lot of time absorbing the elements of nature and photographing references that help me create my paintings. This process not only helps me gather references but also helps me learn about the natural environment and capture the mood of nature that I can translate into my painting. I create my artwork with realistic intricate details to bring the story of nature to life as I experience it.
My original paintings are created using oil colours from well known brands like Williamsburg, Michael Harding, Old Holland and Langridge. And all surfaces for my oil and acrylic paintings are made of extremely high quality linen or polycotton canvas and usually, they are custom made to the requirements of my artwork by local Queensland based business. This ensures that the product I create will be good enough quality to last beyond my lifespan.
Awards - Art

Finalist 2021 - "Royal Queensland Show" at Ekka RNA Showgrounds, QLD

Winner 2021 - "Brookfield Show" - Best Feature Animal subject Award, Brookfield, QLD

Finalist 2021 - "Stanthorpe Art Prize" by Stanthorpe Regional Art Gallery, Stanthorpe, QLD

Finalist 2020 - "Petite Pieces" by Aspire Art Gallery, Paddington, QLD

Winner 2019 - "Brookfield Show" - Best Feature Animal subject Award

Finalist 2019 - "Lethbridge 20000" by Lethbridge Art Gallery, Paddington, QLD

Finalist 2019 - "Rotary Art Spectacular" by Brisbane Rotary, QLD

Finalist 2019 - "Petite Pieces" by Aspire Art Gallery, Paddington, QLD

Finalist 2018 - "Lethbridge 10000" by Lethbridge Art Gallery, Paddington, QLD

Finalist 2018 - "Petite Pieces" by Aspire Art Gallery, Paddington, QLD
Awards - Photography

International Garden Photographer of the Year - Breathing Spaces Category - Highly Commended

Birdlife Australia Photography Awards - Special theme "Honeyeaters" - Highly Commended

Photographer of the Year 2018 by Panasonic / Australian Photography - Landscape - Highly Commended

Photographer of the Year 2018 by Panasonic / Australian Photography - Wildlife & Animal - Commended

Better Photography - Revealing Nature 2018 - Silver Award

Better Photography - Classic Landscapes 2017 - Silver Award

Better Photography - Exotic Travel 2017 - Silver Award

Better Photography - Revealing Nature 2017 - Bronze Award

Photographer of the Year 2016 by Panasonic / Australian Photography - Landscape - Commended
Qualifications

Bachelor of Advertising (Goa College of Art - Goa, India) - 2000

Master of Communication Design (QUT - Brisbane, Australia) - 2002

Diploma of IT (Surina Russo Institute of Technology - Brisbane, Australia) - 2003

Master of IT (Griffith University - Brisbane, Australia) - 2004
Work Experience

2005 - 2017 - Worked in the advertising design industry

2017 - current - Working as an Artist, Photographer & a Freelance Designer
Press - Home Design Magazine
Featured article in Home Design Magazine by Carrol Baker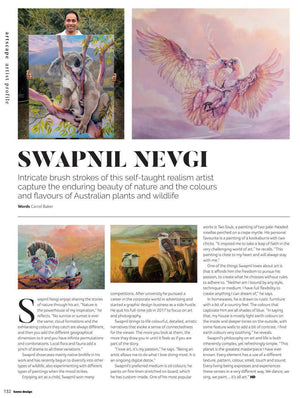 Press - Artsy Shark
Featured Artist on Artsy Shark website by Carolyn Edlund
Press - Artist Closeup Website Interview
Interview on Artist Closeup website
Press - Artist Closeup Magazine
Editorial on Artist Closeup magazine